A Little About Avery
---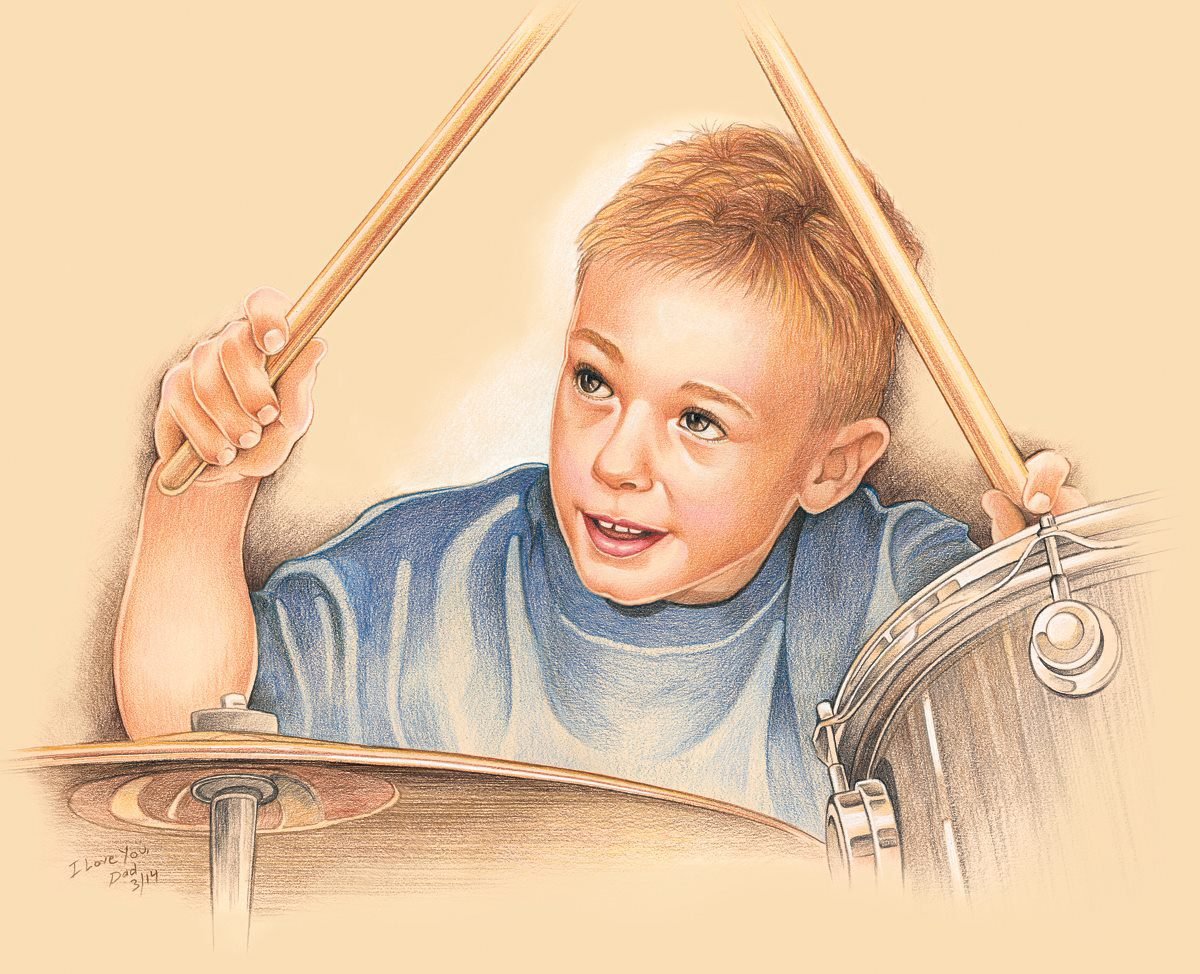 Avery lives in a small town outside Pittsburgh, Pennsylvania. He was born on September 11th 2006. Being born on a significant date such as that should have been a tip-off that he was going to be one special kid. Other than dad playing a little guitar, Avery's parents have no musical background. What they do have is a lifelong love of Rock 'n' Roll. So from the minute he came into the world, Avery was always surrounded by great music, and he would be found singing along from his car seat.
At two-years-old, Santa brought Avery one toy guitar and one tiny drum set. From that point on a rock star emerged. He wanted to watch music videos instead of cartoons, and begged to have mom dress him up and paint his face like the band members of Kiss. He would dance around with his guitar a little, but the drums were like a magnet to him. It seemed like it only took weeks before he was banging along to the rhythm and beat of his favorite songs. And not long after he surprised his parents with his first self-taught song, Mississippi Queen. As Avery is an only child, his parents had no
idea that what he was displaying was outside the norm for children his age. However, the stunned faces in the audience after his day-care talent show at age 3 really clued them in and got them into gear. They continued to encourage his playing and let him do his thing at home, but over the next year, they did their research, upgraded the drum kit, and found a local drum instructor willing to take on a rambunctious 4-year-old. He started taking one 30-minute lesson per week and was introduced to new skills and techniques which he then applied to the songs he was learning by ear at home.
Avery's parents began videoing Avery drumming because they found he would become more focused on his playing and actually finish a song when he knew the camera was rolling. They started sharing these videos with family and friends on YouTube.
In the summer of 2012, when Avery was five, a local company asked Avery to perform a set at "Rock the Rock", a benefit concert they were hosting. At this event Avery played a one-hour set to recorded music and caught the attention of two of the other bands scheduled to perform later that evening, Ruff Creek and AD/HD. As a result, Avery was asked to come up on stage and play with a live band for the very first time ever. Mom and dad were nervous, but Avery nailed both performances and brought down the house. That was it. Avery was now hooked on playing to a crowd.
This led to the "Out of the Basement Tour" - a series of approximately 40 performances over the next year, spanning four states, with numerous talented bands. Most notable were the Hard Rock Cafe in Pittsburgh, The Illinois State Fair, Sturgis Fest "Bike Week" in Michigan, and Roar on the Shore. Ruff Creek continued to show their support for their young friend and graciously invited him to play a 4-song set at many of their scheduled shows. Another exciting opportunity presented itself when Avery was contacted by Karl Golden, an extremely talented guitarist from the United Kingdom who invited Avery to rock with him on a series of music videos.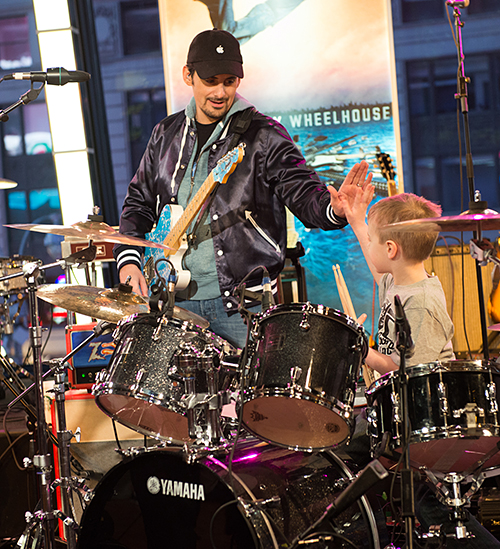 In April 2013, six-year-old Avery's world was turned upside down when his video cover of Van Halen's "Hot for Teacher" went viral. The phone started ringing and hundreds of emails poured in daily including numerous requests for interviews and appearances from national television shows. With their son's young age in mind and his well-being as their top priority,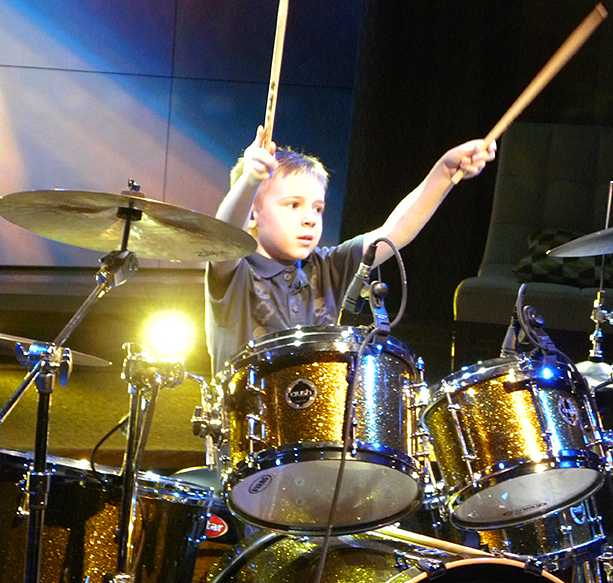 Avery's parents elected to decline all requests...except one. That request came from ABC's Good Morning America who had featured Avery's video on their show on a day when country music mega-star, Brad Paisley, was a guest. Mr. Paisley was so impressed with what he witnessed on that video that he encouraged GMA to invite Avery on the show the following week to play with him live. Honored by the privilege to play with such a truly gifted musician, Avery traveled to New York City and performed "Hot for Teacher" with Brad Paisley live on Good Morning America on April 17, 2013. Avery also did a follow-up interview on GMA's sister show "Live with Kelley and Michael" that same day.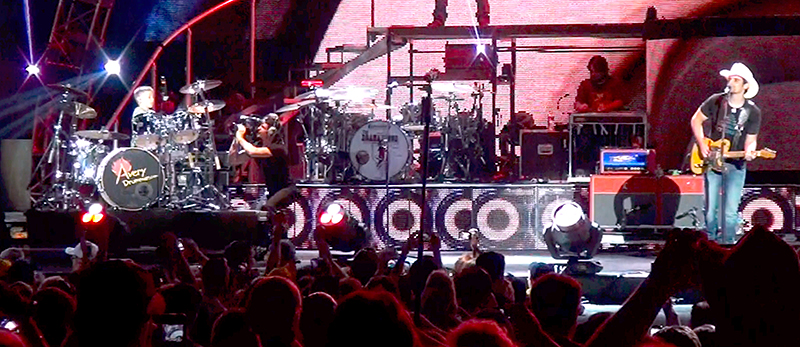 In June 2013, Avery reunited with Brad Paisley when he was invited to perform live on stage at Brad's Pittsburgh, Pennsylvania concert. Once again, as his parents were ready to pass out from nervousness and excitement, the six-year-old took it all in stride as he lived a rock star dream and received thunderous applause from the audience of nearly 20,000 people.
Another highlight of the year was when Avery got to jam with Blues Hall of Fame inductee, Joe Louis Walker, as part of an "MSN Kid Wonders" documentary filmed at Avery's home.
Shortly after turning 7, Avery started working with an amazing new drum teacher, Pat Dilanni of JK Music in Washington, PA, which resulted in a rapid progression of his technical skill and an increase in the level of difficulty of the songs he tackled.
His talent has caught the attention of many accomplished professional drummers who often send Avery words of praise and encouragement via email and Facebook posts. He was thrilled to learn that Mike Portnoy, one of his drumming idols, had been following Avery's videos for years, and had some very complimentary things to say.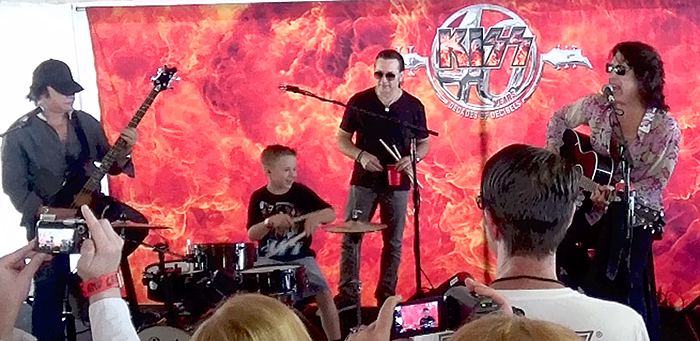 In August 2014 Eric Singer, the drummer for his all-time favorite band, KISS, invited Avery to be his guest at their concert including the opportunity to hang backstage with the band and attend their pre-concert VIP acoustic show.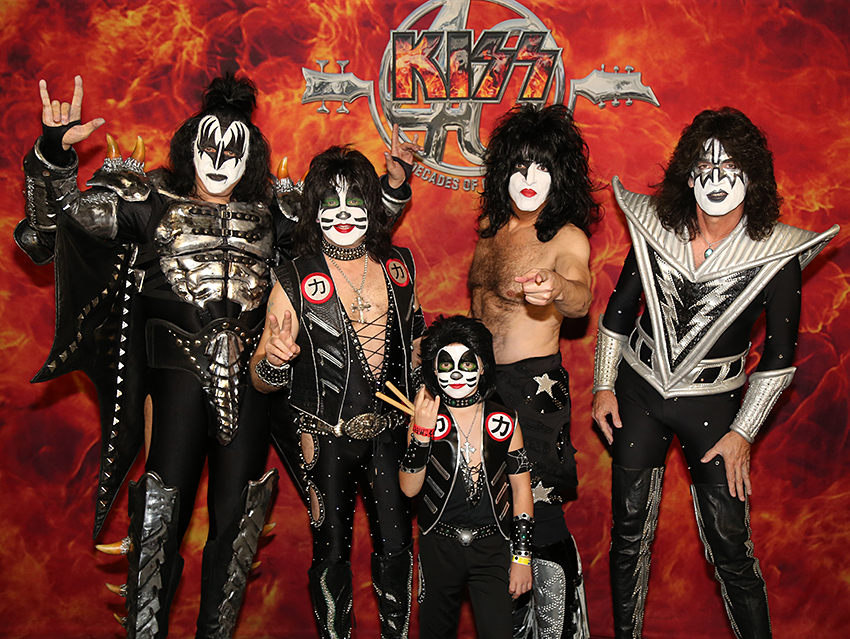 As if that wasn't exciting enough, Avery's dream really came true that day when he was asked to get on stage and perform "Love Gun" with KISS.
Yes, Avery does have dreams of being a rock star someday, but in the meantime, he has mom and dad around to make sure he eats, sleeps, and lives the life of a regular child. Avery enjoys school, reading, baseball, basketball, playing video games and loving his dog, Rocky! He also has a new musical interest...He started taking piano lessons in the summer of 2015!
Now, at age 9, Avery continues to enjoy making music videos to share with his fans around the world, and by the end of 2015, Avery's YouTube channel approached 150,000 subscribers and 50 million views. Avery also has a Facebook fan club completely started and maintained by fans. The future is exciting, and we can't wait to see what is next. Stay tuned.